Utility Golf Cart Conversions in Largo, Palm Harbor, Dunedin, Clearwater, St Pete, Tarpon Springs, Oldsmar, and Beyond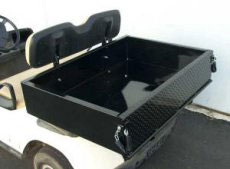 When you need a golf cart that can perform in any kind of environment and stand up to even the toughest treatment, utility golf cart conversions from Golf Cart Services are the way to go. Our experience and expertise can get you the strength and reliability you've been searching for, and whether it's overhauling a personal hunting cart in St Petersburg or prepping a fleet of heavy-duty work carts in Clearwater, we're happy to take on jobs of any size.
A utility golf cart conversion can include add-ons such as:
Wheels
Cargo boxes
Roofs
Utility racks
Lights
Hitches
Winches
More
A utility golf cart conversion from Golf Cart Services is not only reliable and performed to exacting standards, but as with all our golf cart services, it's done affordably and with the signature superior customer service that our customers have enjoyed for more than 30 years. And, since our team has more than 50 years of combined experience, we have the expertise to ensure that your new cart perfectly matches your needs.
For more information, contact us today. Reliable, affordable, and courteous, the experts at Golf Cart Services will be happy to answer any questions you may have about utility golf cart conversions or any of our services, including preventative maintenance and mobile golf cart repair.